The Voice Results Last Night – Who Went Home? 2/24/2014
|
February 25, 2014 at 9:00 AM EST
The Voice results last night on NBC revealed who went home and who moved on to join a Team for Season 6. Find out what happened during the Blind Auditions premiere episode on Monday.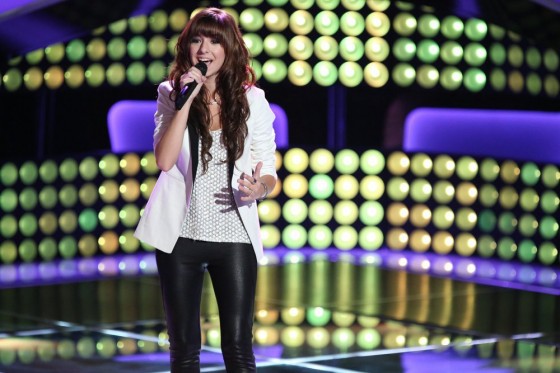 There were so many 4-chairs last night that it became more of a surprise to not get all the Coaches turning around. Hopefully we get back to the 1 and 2 turns that show a more focused set of Coaches rather than the wide net casting at every turn.
So which singers made it to a Team and where did they end up? Let's run through last night's results.
Team Adam:
Christina Grimmie – Adam wins over this YouTube sensation despite all four Coaches competing to snag her for their team.
Dawn & Hawkes – The only duo of the night and Adam flips out for them. He pleads that he must have them on his team and they agree.
Team Blake:
Jake Worthington – Blake finally gets a singer with Jake, a country boy who wants to do true Country music. Perfect match.
Team Shakira:
Kristen Merlin – Kristen earns two chair turns with Shakira and Adam, but she had been hoping for Blake. She goes with Team Shakira.
Jeremy Briggs – Jeremy is a rocker in search of training who lands both Blake and Shakira. I was shocked when he went with Team Shakira.
Team Usher:
TJ Wilkins – All but Shakira turn for TJ who explains he was too good for her to snag. He decides to go with Usher for his Coach.
Biff Gore – Another four-chair spinner. Lots of competitive talk from the Coaches, but he goes with Usher.
Bria Kelly – She planned to go for Team Adam given the chance, but flips and goes for Team Usher. Not a bad choice.
Eliminated singers:
Tanner Linford – Tanner is one of the youngest singers at just 16. He's got a lot of potential, but isn't there just yet and the coaches agree.
Leo Gallo – Leo wants to be an entertainer but is more dancer than singer. None of the Coaches turn around for his stylized performance of "Blurred Lines."
Karina Mia – Fantastic voice and yet no chair turns for Karina. Definitely a missed opportunity for these Coaches.
Did your favorites make the cut last night on The Voice and did they end up on the right team? More Blind Auditions ahead tonight!
Read more recent articles:
« The Voice 2014 Premiere Recap: The... | The Voice 6 Blind Auditions... »
SHARE YOUR THOUGHTS! LEAVE A COMMENT NOW:
Commenting Rules:
Keep the conversation civil and on topic. If your comment does not add to the conversation or is insulting to others, it will be removed. Debate intelligently. No ALL-CAPS.