The Voice 2014 Results: Who Won Their Battle Rounds Last Night? 3/18/2014
|
March 19, 2014 at 8:00 AM EST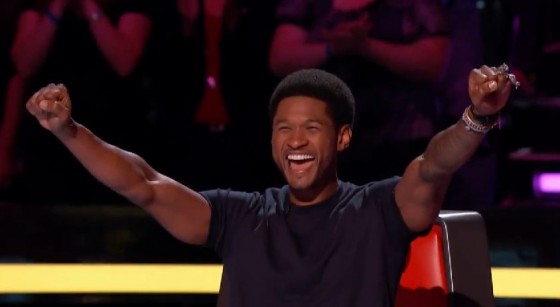 The Battle Rounds continue tonight on The Voice starting at 8PM on NBC for another one-hour show where the Teams will continue their dueling duets for the chance to move on in the competition or be rescued by another Coach's Steal.
Last night we saw three singers saved by the Steal which is a LOT because there are only eight total Steals available for all of the Battle Rounds. They need to slow down or they'll use them up before enough singers get through the Battles.
Now it's time to find out who sings for tonight's duets and who wins their Battle Rounds!
Who Won Each Battle Round Tonight On The Voice 3/18/2014?:
Team Adam
Caleb Elder versus Delvin Choice – "The Man" – Adam says Delvin has won.
Team Blake
Megan Ruger versus Ria Eaton – "My Happy Ending" – Blake declares Megan the winner
Team Shakira
Clarissa Serna versus Jeremy Briggs – "Cold As Ice" – Shakira gives the win to Clarissa
Ddendyl versus Lindsay Pagano – "I Feel The Earth Move" – Ddendyl moves on with Team Shakira
Team Usher
The Brothers Walker versus Morgan Wallen – "Hey Brother" – Usher says Morgan is the winner
Brittnee Camelle versus Melissa Jimenez – "Give It To Me Right" – Usher says Melissa has won
Who Got A 'Steal' By Another Coach?:
Brittnee Camelle – Adam used his Steal
Who Went Home Tonight On The Voice?:
Jeremy Briggs
Caleb Elder
Ria Eaton
Lindsay Pagano
The Brothers Walker
Brittnee Camelle – Saved by Adam's Steal
What did you think of tonight's results on The Voice? Did the Coaches make the right choices and eliminate the right singer in every Battle?
Read more recent articles:
« The Voice 2014 Battle Rounds Part... | The Voice: Battle Rounds Continue... »
SHARE YOUR THOUGHTS! LEAVE A COMMENT NOW:
Commenting Rules:
Keep the conversation civil and on topic. If your comment does not add to the conversation or is insulting to others, it will be removed. Debate intelligently. No ALL-CAPS.