The Voice 2014 Premiere Recap: The Blind Auditions Get Off To A Strong Start
|
February 24, 2014 at 11:35 PM EST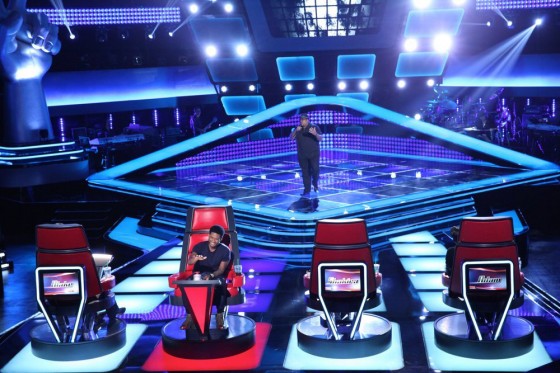 The Voice 2014 Blind Auditions kicked off Monday night with the return of Usher and Shakira as coaches and a lot of top-notch talent.
Let's take a look at the first round of Blind Auditions.
Christina Grimmie, "Wrecking Ball." How many times are we going to hear this song this season? I didn't expect it to be the very first song. At least she's a much better singer than Miley Cyrus. She turned the song into a singer song, which is usually my complaint with songs like this. She gets all four coaches to turn their chairs. She decides to go for Team Adam.
T.J. Wilkins, "Bennie And The Jets." At least we won't be hearing all crappy modern songs. And not only did this guy pick a decent song, he's a great singer. He's got a smooth and cool voice and everything seems so easy for him. He's really an effortless performer. He doesn't get all four chairs to turn, though. Shakira decides to pass. He decides to pick Usher as his coach.
Kristen Merlin, "Something More." She didn't really look like she was going to have a country voice, but she busted out in one. She has a fantastic tone. She surprisingly got Adam and Shakira to turn for her, but not Blake as she had said she hoped. She picks Shakira. Who won't keep, but maybe she'll get saved later.
Tanner Linford, "Stay." What an adorable guy. And I thought his voice was solid. No one turning for him was ridiculous. America would have eaten that up.
Biff Gore, "A Change Is Gonna Come." This guy is filled with soul and grace. He's a natural on the stage. And at his older age, it's mind-blowing that he hasn't found a solid music career before now. He gets four chairs to turn for him, so the choice is his. He goes with Team Usher.
Dawn & Hawkes, "I've Just Seen a Face." They're annoying. We just saw this kind of act win the now-canceled X Factor USA. So I think I'd pass. But that doesn't stop Adam and Shakira from turning immediately. I guess their audition was pretty good. I don't see myself wanting to buy their music, but that's sort of The Voice way. They decide to pick Team Adam.
Leo Gallo, "Blurred Lines." OK, I'm bored. I mean it's basically Robin Thicke only a little more all over the place. Yeah, I think I understand why no one turned their chairs for him.
Jeremy Briggs, "Bad Company." First of all, great song choice. Scondly, great look, great sound, great everything. This guy is good. I like him a lot. Which means he won't last long. He gets Blake and Shakira to turn. He decides to go with Team Shakira. Not a very good decision for him, I'd say.
Jake Worthington, "Don't Close You Eyes." This song was a much better type of song for this guy and it got him early chair turns. So he definitely learned something from last season. His audition was smooth and emotional. Much, much better this time. Het gets Blake and Adam into a battle over him and in the end, he goes with Team Blake.
Karina Mia, "Beneath Your Beautiful." She has a good voice, but her audition was not good. She was shaking and dropped a lot of notes. That's a bummer.
Bria Kelly, "Steamroller Blues." OK, getting Blake and Adam to turn on the first note was ridiculous. Luckily the rest of the auction was as insanely good as the opening. She finally got the other two chairs to turn. I think we can expect her to be around for a bit this season. Since she had her pick she went with Team Usher, and not Adam, whom she said she wanted earlier.
Looks like Team Usher might fill up first this season. What did you think of The Voice 2013 Blind Auditions premiere?
Click on images to view larger
Read more recent articles:
« The Voice 2014 Blind Auditions... | The Voice Results Last Night... »
SHARE YOUR THOUGHTS! LEAVE A COMMENT NOW:
Commenting Rules:
Keep the conversation civil and on topic. If your comment does not add to the conversation or is insulting to others, it will be removed. Debate intelligently. No ALL-CAPS.