The Voice 2014 Blind Auditions Live Results [VIDEOS]
|
February 24, 2014 at 10:00 PM EST
The Voice 2014 Blind Auditions start tonight and we're ready to kick off Season 6 with a bang. We've already been watching spoiler previews of some great talent and can't wait to see what else is in store tonight on NBC.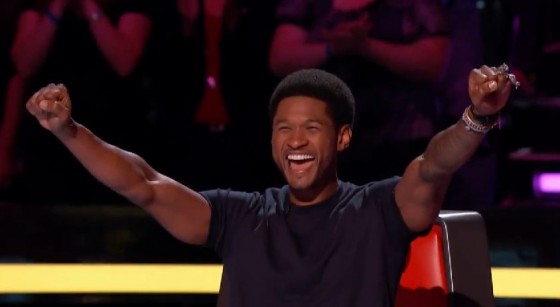 With the return of Usher and Shakira the coaches panel has been shaken up again leaving viewers with a fresh take on a series now in its sixth season. Don't tell Adam and Blake that anything's getting old though because they're having a great time fighting to snag new talent on The Voice.
First up tonight we've got Christina Grimmie who sings "Wrecking Ball" and knocks it out of the park. Hard to say I like it better than the original, but it's great all the same. All four coaches spin their chairs. Christina decides to go with Adam!
Christina Grimmie performs "Wrecking Ball":

T.J. Wilkins is going on The Voice for his chance to make a better life for his family. Carson Daly goes out to TJ's home to sit down and meet him before his audition on the show. Can his efforts in music help him achieve the success he's seeking? He'll be singing Elton John tonight. TJ nearly immediate earns three spins from all but Shakira. The Coaches compete but TJ decides to go with Usher.
TJ Wilkins performs "Bennie and the Jets":

Now we've got Kristen Merlin performing "Something More." She's been pursuing her dream of being a career artist but knows she needs to make it big soon. If she could get just one Coach to turn Kristen is hoping for Blake Shelton. Once she starts performing Adam immediately hits his button with Shakira not far behind. She's definitely up Blake's alley with her great Country talent, but in the end she doesn't get his chair to turn around. Kristen still has two great choices and decides to go with Team Shakira.
Kristen Merlin performs "Something More":

Tanner Linford is 16 going on 12 and comes in as one of the younger contestants on Season 6. He was urged by his parents to try out in a talent show and finally decided he want to explore his singing abilities. Tonight he'll be singing "Stay" in his bid to spin the chairs and join The Voice 2014. Sadly he does not get any of the Coaches to turn around but they give him lots of advice and encourage him to get practicing and developing his skills.
Tanner Linford performs "Stay":
video coming soon…
Biff Gore is a father of five, going on six, and worship leader who is excited to be "on the greatest show on Earth." He's here tonight with his brother who he credits with saving his life through his military work. Biff gets an encouraging message from his family and then is off the the stage. Biff earns quick spins from Adam and Blake soon followed by Shakira and finally Usher. He'll have his choice of Coaches tonight and goes with Usher!
Biff Gore performs "A Change Is Gonna Come":

Here comes the first duo of the night with "Dawn & Hawkes." They met romantically a few years ago and discovered their joy in performing together and now are looking for their big break and hope The Voice will be that for them. Both Adam and Shakira very quickly hit their buttons and are set to compete for them. Adam gushes this was the best performance he has ever heard on The Voice. Thankfully for him they do choose Team Adam for Season 6.
Dawn & Hawkes perform "I've Just Seen A Face":

Leo Gallo is a dancer and singer who wants to prove he's got what it takes. He'll be doing "Blurred Lines" and thinks it's the right choice to showcase his talent, but will it be enough to earn the Coaches' approval? Let's see what he can do. Nope, it's not enough to get a chair-spin and that's not surprising. It's good, but not great.
Leo Gallo performs "Blurred Lines":
video coming soon…
Jeremy Briggs is looking to break out of his boring job, like most of the other Hopefuls on The Voice, but he's also looking to learn something by coming on the show. He sings in a rock band but has had no training and hopes to learn something from the Coaches even if they don't spin their chairs. Looks like it won't come to that though as he earns chair-spins from both Blake and Shakira. Which Coach will he pick? Jeremy goes with Team Shakira and I'm shocked!
Jeremy Briggs performs "Bad Company":

Jake Worthington is ready to bring some Country to the stage with his guitar and a performance of "Don't Close Your Eyes." I expect he'll be angling for Team Blake, but let's see where he ends up because he's definitely a talented singer. Sure enough there are three spins and he has to decide between Blake, Adam, and Shakira. The crowd is cheering for Jake to pick Blake and he goes with that same choice. Jake picks Team Blake.
Jake Worthington performs "Don't Close Your Eyes":

Karina Mia is pursuing her dream of being a singer now that she's made it through college, a requirement her mother set out for her. She hopes to get a chance as an artist with The Voice's unique opportunity to sing before being seen. Right out of the gate she's clearly an incredibly talented woman but I'm shocked when no Coaches decide to turn around and discover her. Karina leaves without a team to join.
Karina Mia performs "Beneath Your Beautiful":
video coming soon…
Bria Kelly is another contestant who has what it takes to go far on The Voice 2014 and earns another 4-coach-spin with her delivery of "Steamroller Blues." Usher calls her "The Voice" but I'm not sure she's the absolute best of the night, much less the season on its premiere event. She's great though and moves on to the next round when she decides to go with Team Usher instead of Adam as she originally planned.
Bria Kelly performs "Steamroller Blues":

In case you missed the start of tonight's premiere, be sure to check out the Coaches performing a medley of each other's hits. Lots of fun but what else would you expect from this show?
The Voice Coaches perform each other's songs:

Which singer tonight on The Voice has been your favorite so far?
Read more recent articles:
« TJ Wilkins – Bennie And The... | The Voice 2014 Premiere Recap: The... »
SHARE YOUR THOUGHTS! LEAVE A COMMENT NOW:
Commenting Rules:
Keep the conversation civil and on topic. If your comment does not add to the conversation or is insulting to others, it will be removed. Debate intelligently. No ALL-CAPS.