The Voice 2014 Blind Auditions Episode 2 Recap: Coaches Battle For The Best Contestants
|
February 25, 2014 at 11:27 PM EST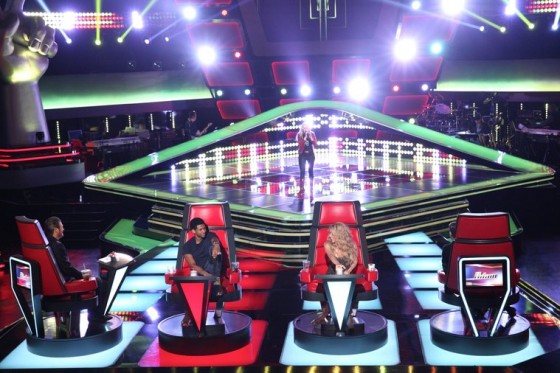 The Voice 2014 Blind Auditions continued Tuesday night in a much shorter hour-long episode of heavy talent and intense coaches' battles. OK, not so much intense as hilarious. At one point, the coaches are even letting one of the contestants they're courting sit in their seats. More on that later.
As always, I'll be reviewing each of the blind auditions. Feel free to let us know what you think in our comments section below.
Delvin Choice, "A Song For You." I don't remember this guy from last time, but this time it was surely a great audition. It was smooth and confident and so good that Adam, Blake and Shakira turned around right away. Usher held out until almost the end, but finally turned. So he has his choice of coaches. He goes with Team Adam.
Madilyn Paige, "Titanium." What a sweet and tender voice to match a sweet and tender girl. I feel like America would really get behind this girl. She clearly needs some coaching, but I think she could do some great things on this show. Usher and Shakira turn their chairs and she ends up going with Team Usher.
Noah Lis, "Me And Mrs. Jones." This guy has such a great sound and he seems like such a sweet guy, but the coaches were just not feeling him. Until the very end. And then Blake and Adam both turned around. And I'm glad they did. I don't expect him to go all the way, but I think he has a chance to do some good things while he is here. He goes with Blake as his coach.
Keith Shuske, "Somewhere Only We Know." Well, I hate this guy's stupid look and annoying mustache and I really don't like his voice either. But it looks like the coaches agreed. He got no turns.
Deja Hall, "True Colors." She was sort of boring at first, but then it got better. I think she has a great sound and despite it not being the point of the show, a very marketable look. She will need to amp up her energy level though for the battle rounds. Show some notes. Blake and Shakira turn for her first, then Usher squeaks in at the end. She decides to join Team Shakira.
Cary Laine, "Better Dig Two." She's got sass and spunk and a voice to match. And all that gets her all four chairs to turn. It seems like Blake is the obvious choice for her. But then Adam actually gives her his big red chair. And then the other coaches follow suit. She gets to try out all the chairs. And there is a Goldie Locks reference. She goes with Adam as her coach.
Who do you think is shaping up to have the strongest team on The Voice 2014?
Read more recent articles:
« The Voice Results Last Night... | The Voice 2014 Blind Auditions... »
SHARE YOUR THOUGHTS! LEAVE A COMMENT NOW:
Commenting Rules:
Keep the conversation civil and on topic. If your comment does not add to the conversation or is insulting to others, it will be removed. Debate intelligently. No ALL-CAPS.